Opened in June of 2022 as a replacement facility for Brinton Woods Nursing & Rehabilitation Center at Winfield,  Atlee Hill is committed to providing residents and their families with skilled, compassionate services in a one of the newest, most spacious, beautifully appointed and well-equipped facilities in the region.
No detail was overlooked in the design of Atlee Hill.  Our residents are provided with the very best environment to thrive and recover comfortably with dignity.
As wholly owned subsidiary of LifeBridge Health, the outstanding clinical and administrative teams at Atlee Hill have the support of some of the most recognized clinical specialists in the Greater Baltimore Region and an unparalleled network of support services.
Named in honor of Mr. Atlee Wampler, one of Carroll Hospital's founders and Chair of the Citizens Fundraising Committee. In the 1950s the committee embarked upon a mission of bringing a hospital to their community, Atlee Hill builds upon the foundation set by Mr. Wampler and all those who, along with him, saw their dream become a reality when Carroll County General Hospital opened its doors in 1961. In the decades since then, guided by the principles instilled by those dedicated community members, Carroll Hospital has transformed its campus into a leading medical center. As part of LifeBridge Health, one of the largest and most comprehensive health systems in the Baltimore-Washington region, Carroll Hospital joined over 13,000 team members who care for approximately 2 million patients annually throughout Maryland via our integrated delivery network.
Atlee Hill–another example of how at LifeBridge Health we Care Bravely and tirelessly advocate for, and invests in, initiatives that improve the health of the individuals and communities we serve.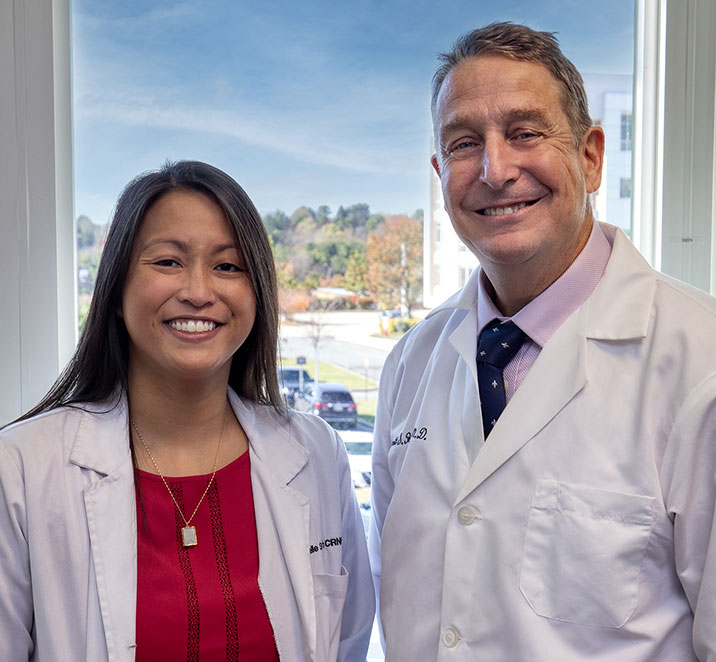 Atlee Hill joins other medical buildings on the Carroll Hospital campus honoring members of the community who through their dedication, support and advocacy, helped advance healthcare in Carroll County including:
Billingslea Medical Office Building
James Billingslea, MD, one of Carroll's first physicians, practiced medicine in Carroll County from 1919 until his retirement in 1966. The civic dream of Billingslea's life however, was the construction of a hospital to serve county residents. As he saw his life's dream come to fruition, during the ceremony for the ribbon cutting for Carroll County General Hospital in 1961, he spoke a phrase almost like a benediction and sparked an organizational philosophy by stating "May we cure sometimes; may we relieve often; but may we comfort always."
And, for the cause he so passionately championed beginning in 1935, Dr. Billingslea also provided financial support by personally backing the loans that provided the working capital required to operate the newly opened hospital.  When the hospital's first medical office building was under construction in the late 1980's, it was only fitting to honor Dr. Billingslea for his unrelenting, lifelong commitment to the Carroll County community.
Richard N. Dixon Building
Named in honor of Delegate Richard N. Dixon who was a Member of the Maryland House of Delegates from 1983-1996 and went on to be elected State Treasurer of Maryland by the General Assembly January 19, 1996, a position he held until February 1, 2002.
The first African-American Treasurer, the first Treasurer from the Western Maryland area and the first elected Constitutional officer from Carroll County in 100 years. An ardent supporter of Carroll Hospital, as a legislator, Mr. Dixon sponsored numerous bills to benefit Carroll Hospital, including a new emergency room and a major expansion construction project that included The Women's Place and a new Ambulatory Surgery Center.
For his contributions to the community, the hospital dedicated the Richard N. Dixon Building in his honor in 1997.
Charles O. Fisher Medical Office Building
An attorney by trade, Charles O. Fisher, Sr. was one of Carroll Hospital's founding members, served as the hospital's first legal counsel and developed the hospital's legal articles of incorporation.
He also helped to establish the hospital's auxiliary in 1958 and continuously served on the board of directors since the hospital's inception in 1961, helping to evolve it from a small community hospital into a thriving health care system.
Opened in Fall of 2010, the three-story, 75,000-squarefoot building provides patients with easy access to physician offices and medical services, all in one convenient location.
William E. Kahlert Regional Cancer Center
William Kahlert was the co-founder of Evapco, Inc., an industry-leading manufacturing company dedicated to designing and manufacturing the highest quality products for the evaporative cooling and industrial refrigeration markets around the globe, based in Taneytown, Maryland.
A lifetime resident of Carroll County, Mr. Kahlert was a longtime supporter of Carroll Hospital, and through the Kahlert Foundation he created, the Kahlert family provided millions of dollars in funding for Carroll's new cancer center which opened its doors in October 2015. Accredited by the Commission on Cancer as a Comprehensive Community Cancer Program, The William E. Kahlert Regional Cancer Center's team of clinical experts in medical oncology, radiation oncology and hematology provide comprehensive services from diagnosis to support.